Services

Spa Services

Skincare and massage backed by science. Invest in yourself. Ask about our treatment and waxing series packages.

Book an Appointment Now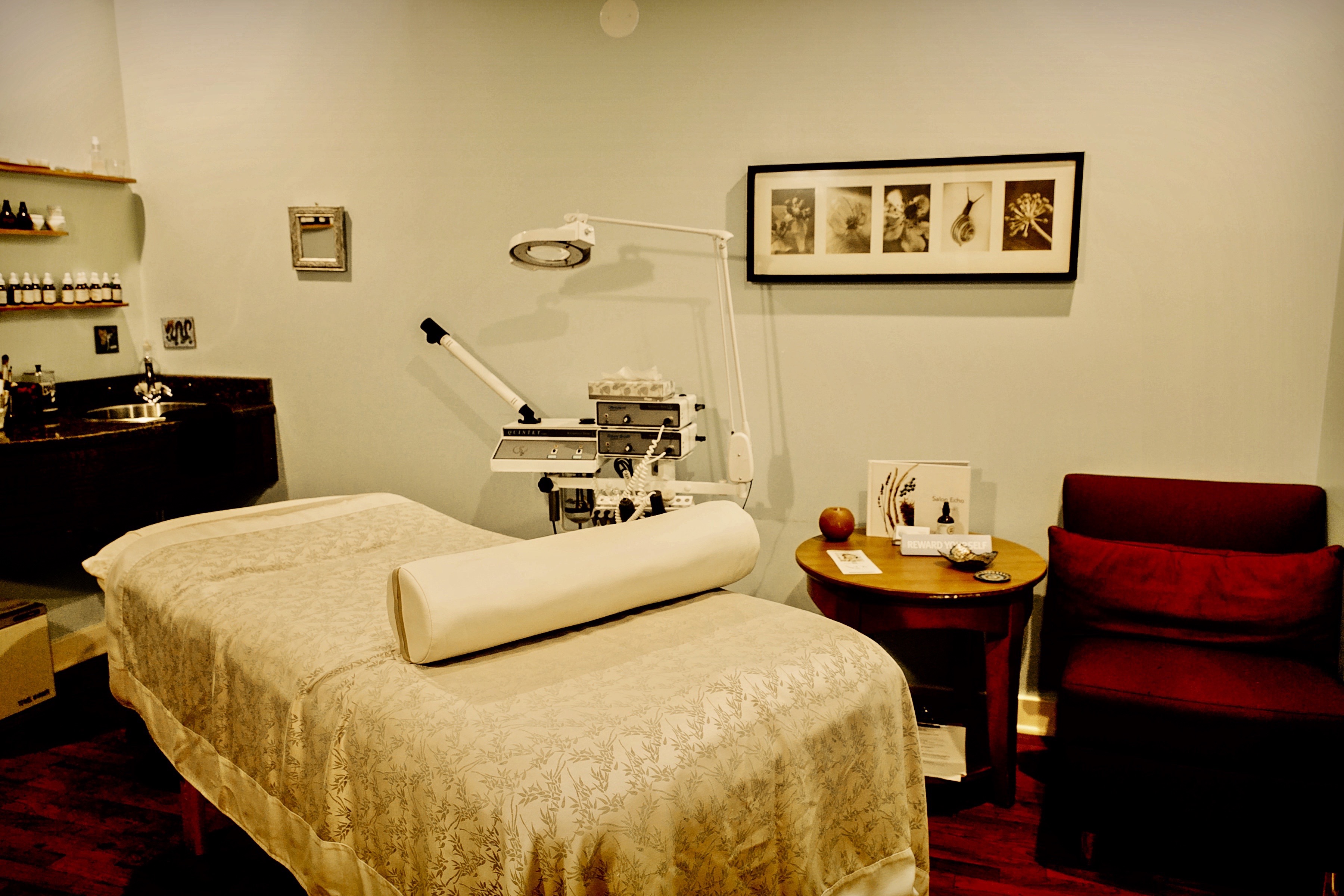 Signature Facials
Inquire about our Series Packages with special pricing.
Customized Wellness Facial

40 min: $67 / 60 min: $90 / 90 min: $125

Our most popular facial! Designed to balance your mind and body, our customized facials are tailored to your personal skincare needs. Utilizing principles of Ayurveda (the science of life), we combine Amrit certified Raw Organic Skin Care with pure essential oils, acupressure and lymphatic massage. Each facial is a unique and personalized experience. 60 or 90 minute facials include a hand massage, as well as a holistic skincare recommendation. 90 minute facials include an added foot massage.

*NEW* Balanced Beauty Facial

60 min: $90

Aveda's newest plant stem cell technology utilizes the Botanical Kinetics(TM) serums to balance and transform your skin.There are three different serums our esthetician has to choose from to target your specific skin issue. For ultimate hydration, cactus fruit stem cells & hyaluronic acid. For visible luminosity, snow lotus stem cells & alpha hydroxy acid. To minimize pores, sweet clover stem cells & beta hydroxy acid. We like to think of it as a power drink for you skin!

*NEW* Mask-ne Facial with LED Treatment

75 min: $120

Has wearing a mask been irritating and breaking out your skin? We have a new solution for your "mask-ne" problems. This facial will deep clean impurities trapped in the skin around your mouth and jawline. LED Blue Light Therapy kills the bacteria that causes acne, calms down inflammation, and clears your skin from the inside-out.

*NEW* Micro Current Treatment Facial

60 min: $99

This is a powerful non-surgical, non invasive facial treatment. The technology uses a low-grade electrical current to help tighten your facial muscles and smooth your skin. Think of it as a workout for your face. Experience instant results without irritation, pain or any downtime. Going to a special event? This is a great choice for looking your best!

Emerald Facial (certified organic, vegan)

60 min: $105 / 90 min: $140

Salon Echo's signature Facial is a cerified organic( and locally produced), multi-fruit AHA treatment that will maximize cell renewal and minimize irritation. Progressive exfoliating peel used in combination with a proprietary blend of organic ingredients, eliminates rough texture, dull skin and clogged pores while diminishing the appearance of fine lines and wrinkles. From acne to aging this facial is perfect for preserving and protecting your skin with no downtime. 60 min INCLUDES: Hand and arm massage, a holistic skincare recommendation, extractions and facial massage. 90 min INCLUDES: Foot massage and additional detoxifying mask to manage stress post-peel.

Student Facial

45 min: $50

A targeted facial for the student that needs a little TLC. Exams giving you breakouts? Late night studies leaving you with dark circles? Or maybe you have a special date lined up. This facial is for you!

Back Treatment

60 min: $75

A back facial utilizes many of the techniques used in skin treatments for the face. It will clarify and soften the skin of the back while providing a deep moisturizing treatment which will leave you with a healthy, glowing back. Back facials for both men and women are available, in a wide range of formulations which target specific skin types or issues such as clogged pores, acne and dry skin. To really treat yourself, add-on any of our facials.
Specialty Facials
Treat yourself to a luxurious, results driven facial in our spa, right here in our Edgewater neighborhood.
*NEW* Vita Brite Treatment

50 min: $105

Nourishes dry, dehydrated, and rosacea-affected skin to encourage healthy cell activity. This treatment reduces redness while strengthening the skin's immune response. Lightens, tightens and hydrates. Because of the nature of this facial extractions are not recommended

Microdermabrasion and LED Facial

90 min: $150

This powerhouse of a facial combines two great treatments for noticeable results. Microdermabrasion utilizes soft crystals to super exfoliate the skin, smoothing out acne scars and fine lines, and lightening hyper-pigmentation. Follow up with relaxing nap under the LED with therapy. Choose blue light to further eradicate break outs, or red light to stimulate collagen production. The result is baby smooth, glowing skin. Four, Six or Eight week series packages available.

Dual Exfoliation™ Facial

60 min: $105 / 90 min: $130

The Dual Exfoliation Peel uses Aveda's latest advancement of our Perfecting Plant Peel in a non-invasive, skin-renewing treatment. This treatment combines Aveda's naturally derived mechanical and biochemical exfoliation methods into one powerful service. The treatment delivers immediate, visible results in improved skin texture, clarity and radiance; smoothed appearance of fine lines and wrinkles; and refined pores, revealing fresher, younger-looking skin. You will see significantly better results in smoothness, radiance and skin tone one week later. A good alternative for guests with sensitive and rosacea prone skin types. The 90 minute facial includes extractions and a massage. Experience the rejuvenating power of plants and minerals to help skin to look and feel its best.

Hydra-derm Facial

60 min: $125 / 90 min: $150

Simultaneous exfoliation, extraction, cleansing and deep hydration. Improves suppleness and elasticity of the skin, refines pores, skin tone and skin texture. A 90 minute facial includes the oxygen treatment which kills bacteria that may cause acne, soothes irritated skin and fades fine lines and wrinkles.

DermaLuxe Facial

90 mins: $180

This amazing treatment includes a soft peel, painless extractions with our ultrasonic extractor, a diamond micro-derm treatment to smooth scars and fine lines, a hydra-derm treatment to hydrate and nourish the skin, and oxygen therapy to plump and revitalize the cells. Results are noticeable immediately. It's addictive! No pain, no downtime.

Diamond Microdermabrasion

30 min: $95 / 60 min: $120

Diamond Microdermabrasion treatments are one of the most effective non-surgical procedures available when used as part of an anti-aging regime. It encourages the regeneration of new skin while simultaneously stimulating production of healthy cells, collagen and elastin. This treatment is used to help diminish breakouts, softens pigmentation, discoloration and fine wrinkles.

Rezenerate Facial

60 min: $150

Perfect marriage of science and beauty, utilizing actual verified Nanotechnology, the pressure points of Acupressure, the principles of Yoga Facial Exercise, and the cool touch of Cold therapy. The Rezenerate Facial makes it easier to target dark spots, acne, reduce under eye puffiness, increase hydration, reduce uneven skin tone, and fine lines, without compromising your skin's integrity.
A La Carte Services For Better Results
Upgrade your service with one or more treatments for a more customized, results driven facial.
Perfecting Plant Peel™

$35

Aveda's premium, all natural peel, is designed to deeply refine textured skin, smooth fine lines, unclog pores, lighten pigmentation and sun spots. Resurface the skin with glucosamine HCI, amino sugars and salicylic acid. Nourishes the skin with coconut oil, and shea butter. No recovery time needed.

LED treatment

$30 / Series of 4 $99 (recommended)

This 30 minute treatment helps with acne, rosacea and fine lines. Please note, booking this treatment without additionally booking a facial will not include a face cleansing. Please come with a clean, makeup-free face or makeup removal time will come out of time under the LED.

Oxygen treatment

$10/$15 with serum

Infuses skin with pure oxygen and a serum suitable to your skin type. Oxygen - sensitive skin. Youthful Strength - Preserving and protecting.

Ultrasonic Extraction

$20

Activated by ultrasonic soundwaves (28,000 vibrations per second), to loosen up dead skin cell build up and debris. Works particularly best for red or rosacea-prone sensitive skin that typically doesn't respond well to other exfoliation methods.

Lira Clinical Peels

$100 / Series of 4 $330.

Results oriented treatments for acne, hyper pigmentation and age management. A Chemical peels is a treatments that removes the damaged outer layers of the skin. It is highly effective for wrinkles, blemishes, and uneven skin pigmentation. Your skin is left with improved tone, texture and even color. We will recommend a peel specific to your skincare needs. Best results are had by purchasing a series of four (4) treatments.

Brightening Eye Treatment

$25

Soothe, calm, and reduce the appearance of fine lines around your delicate eye area. Treatment includes acupressure massage, hydrating botanical masque, cooling compression finishing up with an illuminating eye cream.

Ayurvedic Head Massage

$35

Aromatic spiced oils are warmed and applied liberally to scalp and head, followed by a complete head, neck & scalp massage. Targeted to release tension, combat headaches & deeply relieve stress.

Ear Candling

$40

Ear Candling creates a gentle vacuum effect that draws out accumulated wax and excess buildup from within the ear canal. Candling can help alleviate seasonal allergies, headaches, swimmers ear and sinus congestion.

*NEW* Micro-derm mini

$75

30 minute Microdermabrasion treatment without a facial

*NEW* Micro Current Therapy

$35

Add-on for eye area or mouth Area. Target heavy signs of aging around your eyes, forehead, mouth and jawline. With help of micro current treatments fine lines and wrinkles are reduced to minimum instantly.

Beard Treatment

$15

Essential oils are used to deep clean, soften and moisturize your beard area. Use of the high frequency comb will stimulate hair growth to fill in any sparse areas.
Brow & Lash Services
Bring attention to your eyes without mascara or a lash curler. Results last 4-6 weeks.
Lash or Brow Tinting

$20 each / $35 combo

Enhance your natural brow or lash features with this quick and easy treatment. Defines your face with long-lasting results you'll love. Lasts up to 4 weeks.

*NEW* Brow Lamination

$80

Lifts your brow hairs into a more uniform direction, resulting in super smooth brows that look as though you're wearing brow gel. A non-invasive alternative to micro-blading.

Lash Lifting

$65 / including lash tinting: $80

Say goodbye to your lash curler! Lash lifting is a painless and easy way to curl your lashes without cosmetics. Gives you dramatic curl that last 4-6 weeks.

Trinity

$50

Brow wax, Lash & Brow tint.

Trinity & Lash Lift

$115

You'll be perfectly groomed and ready to face the day!
Waxing - Face
We also have loyalty benefits for waxing.
Brows

$17

Lip, Chin, or Sides

$10 each

Nose or Ear

$10 each

Tweezing

$18

No wax.

Full Face without brows

$45

Full Face w/ brows

$55
Waxing - Bikini
Three types for every type of woman
Basic Bikini

$35

Just the sides outside the panty line.

European Bikini

$45

Verical strip of hair left remaining.

Brazilian

Front only $55 / Full $70

Completely hairless. Full includes backside.
Waxing - Body
Back

$50

Chest

$20 - $50

From Decolletage to Full Chest

Leg

Half $40 / Full $70

Arm

Half $20 / Full $40

Underarm

$20

Shoulders

$30

Nape

$20

Toes or Knuckles

$10
Body Treatments
Salon Echo's treatments are designed to exfoliate, hydrate, balance and provide deep relaxation. Please refrain from shaving 24 hours before treatment to avoid irritation. Please provide technician with any known allergies, pregnancy, or medical issues.
Sea Salt Body Glow

60 min: $90

Experience a glow from head to toe with this energizing, smoothing, and hydrating treatment. Warm citrus oils are gently applied to your body, followed by a sprinkling of mineral-rich sea salts, which are used to buff your body to perfection. While wrapped in warm blankets a hot oil scalp treatment is given. Wash off with a refreshing shower and leave feeling radiant.

Stress-Fix Lavender Body Wrap™

50 min: $90

Reduce feelings of stress with this body wrap formulated with certified organic lavender, lavandin and clary sage from the French Alps. Start with full body dry brushing to increase lymphatic flow while gently exfoliating your skin. Next, warm luxurious Stress-fix Body Lotion is gently massaged in. Finish with being cocooned in warm blankets while our esthetician cleanses, tones, and hydrates your face..